About Programmed
Innovation that directs
Programmed employs over 2,500 tradespeople and professional staff and maintains over 60,000 buildings and structures for more than 5,500 customers across a network of over 50 branches.
Our Value Chain

At Programmed we pride ourselves on our service delivery and achieving the best possible quality and value. Our goal is to minimise risk and ensure that every action we take will not compromise the safety or environmental well-being of our customers, the public and ourselves.
Through our experience, we can assure you of a quality outcome by producing signage that reflects the best possible finish in translating the intended graphic design to the built environment.
Programmed undertakes all forms of signage projects in the fields of government, retail, commercial, health and education. We manage the design, manufacture, supply and installation of signage. Whilst we specialise in multi-site re-imaging projects we also have extensive experience in wayfinding systems and one-off sign projects.
Programmed have successfully implemented over $250 million worth of rebranding projects over the past 26 years. With 33 Australian and 15 New Zealand branches we are perfectly placed to help to deliver your next signage project utilizing the eCORE Signage System.

Nathan D'couto
National Sales and Marketing Manager
Programmed
Programmed Property Services
Programmed provides intelligent solutions to help businesses grow.
We have built our reputation as one of Australasia's most respected organisations providing quality service, professional expertise and innovative business solutions for workplaces across all industry sectors in Australia and New Zealand.
Our Services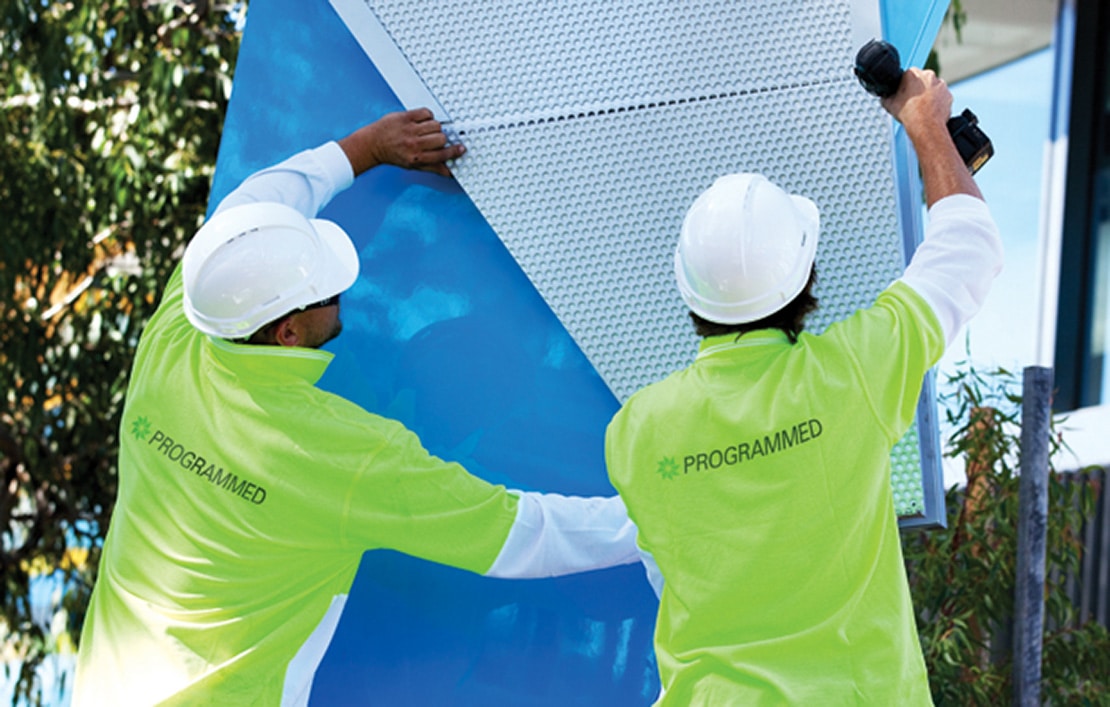 Programmed's services are delivered with a consultative approach and one-point of contact assigned to a project. This provides the personal service and expertise to take the complexity out of running a project and reduces the risk to our clients.
After 60 years of taking care of property, we will be there in the future to assist with ongoing servicing and maintenance, protecting the integrity of the signage assets and standing by our product.
With a commitment to equal opportunity, compliance to the national code of practice for the construction industry and quality and safety through our integrated management system, programmed will ensure an end result to the highest standard and that all projects will be undertaken with a focus on the safety of all personnel and the public.
Our project services include:
Site assessments and audits
Sign Strategies
Concept Development
Design and specification
Artwork and documentation
Style guides
Engineering certification
Permits
Locally based supply
On site supervision
Manufacturing and installation
Wayfinding and directory signage
Permit applications
Traffic management
Ongoing servicing, maintenance and repairs