eCORE: How does it work?
The eCORE Signage System is comprised of a standard grid and product family to ease the specification process. Panels can be orientated in landscape or portrait and combined into single or multi-panel signs, creating an ideal modular sign system for both external and internal environments.
Modular Sign System: Construction Details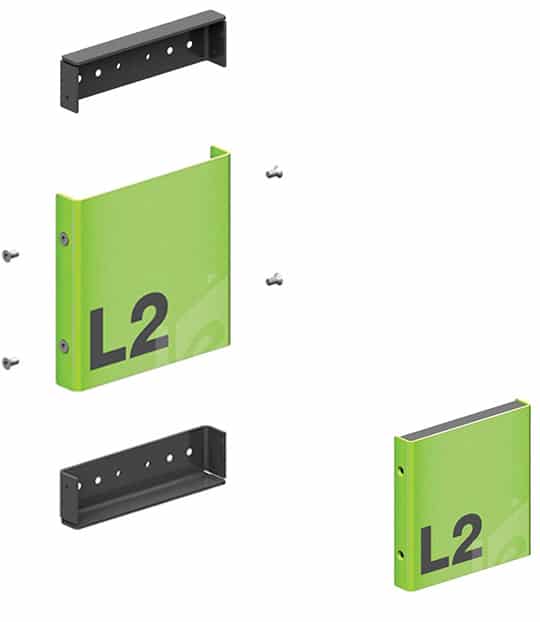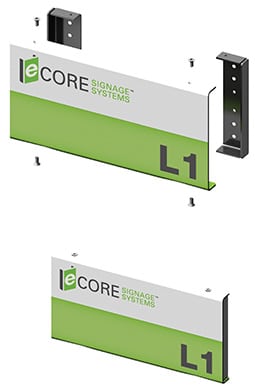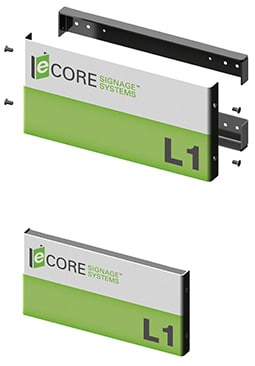 Single Panel
Single panel displays can be created and installed to walls with Revealed Mounting Frames or used as sign elements designed into other structures.
Revealed Mounting Frames have been designed not only to be integral to the sign structure, but also remain revealed as a functional design element within the modular sign system you can apply a brand or building colour to.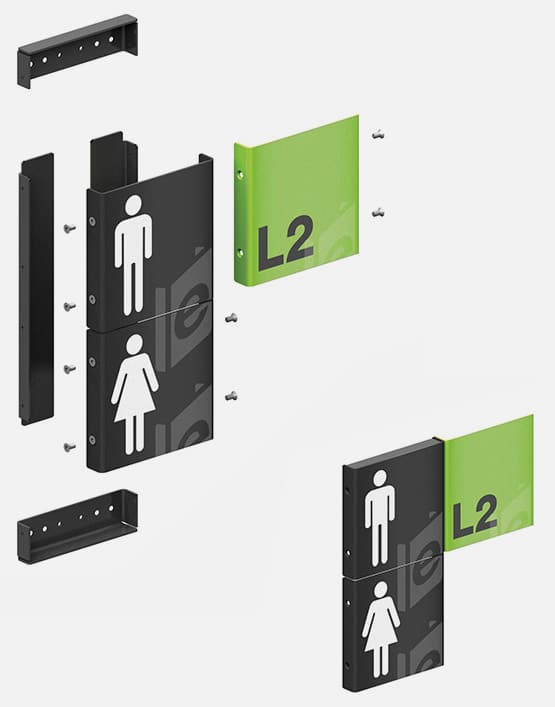 Multi Panel
Double-sided signs can be constructed with the mounting frame revealed. This provides an enhanced design aesthetic within the modular sign system by highlighting the frame in a brand colour or environment colour.
Other display formats can be shaped by your imagination using panel configurations to form cantilevered or suspended signs, or used as sign elements mounted onto other architectural materials or structures.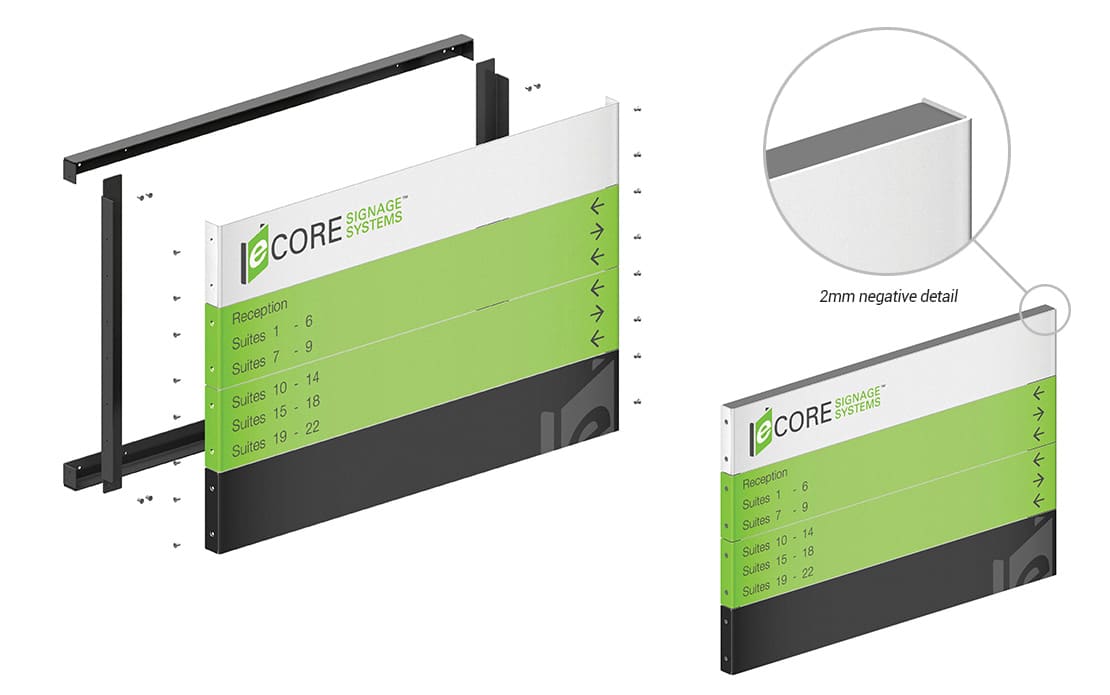 Wall Mounted
Multi-panel wall signs are easily developed by combining two Revealed Mounting Frames with two Multi Panel Joiners to create a frame. The frame is fixed to the wall and the panels are fixed to the frame.
Multi Panel Joiners are available in different lengths to accommodate a variety of sign heights.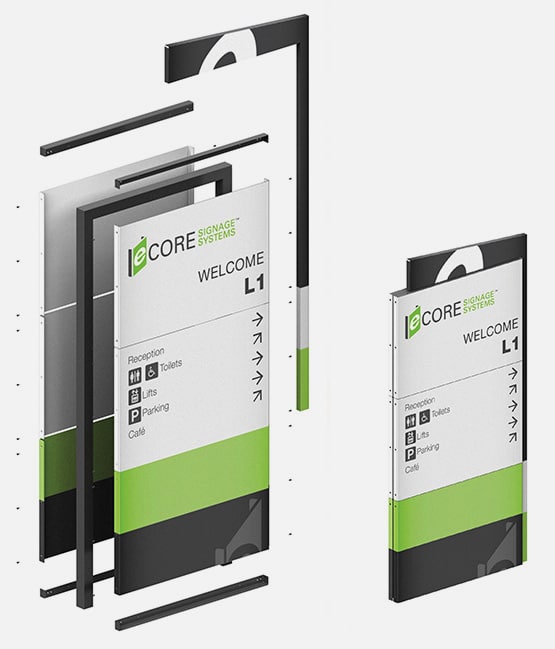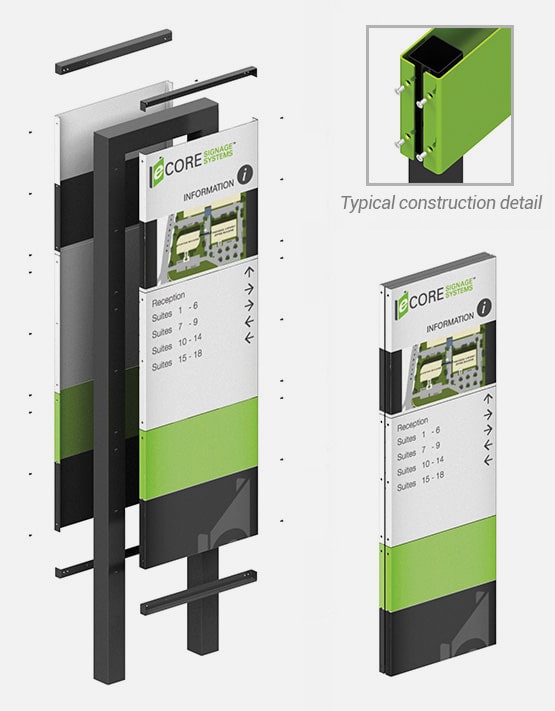 Free Standing
eCORE sign panels can be used in conjunction with purpose built structures to form free standing signs in various configurations.
Single or multiple panels can be combined easily within the modular sign system to create double sided free standing signs. Customisation is also possible by adding blades to available fixing points allowing for individual creativity.
Aesthetic Design Principles
eCORE Signage Systems was developed by Programmed's design team in concert with architects and wayfinding signage experts to incorporate aesthetic design principles. Every part of the eCORE Signage System has been considered as a separate entity not only for structural integrity, but as an important design element within the modular sign system.
eCORE's standardised grid and product family provides it with the ability to create different orientations, combinations, and configurations in conjunction with existing site architecture. This can complement existing architectural design or introduce a new architectural structure to your property.
Every panel has been manufactured with computer controlled precision, reducing the need for expensive sign replacements and ensuring total uniformity in size, shape, and colour.
This allows total customization to suit the customer and their particular internal or external environments, be it hospital, corporate, school or otherwise.
The endless available combinations create a wayfinding design within the chosen signage system that cuts through and has impact, maximizes the opportunity to create a highly-visual branding exercise, enhances the profile of your property, and safeguards continuity of brand recognition for site users from entry to exit.
eCORE is only limited by your imagination.