Directories and Wayfinding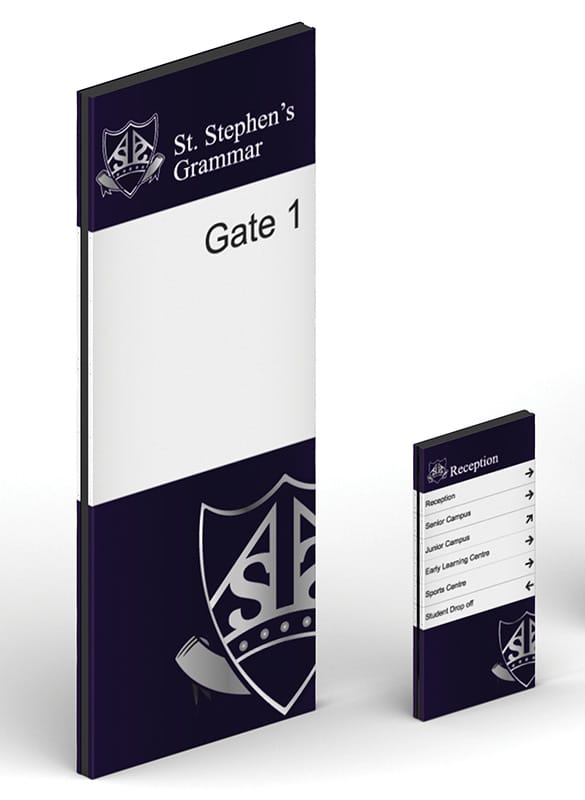 The versatility of the eCORE Signage System provides for the design of a variety of external educational signage solutions. Our custom school signs can be developed as double-sided monoliths to under awning and suspended sign applications, even LED school signs. The eCORE Signage System is for school signage.
"Our team of designers worked for two years developing the eCORE Signage System to ensure we ended up with a system that provided internal signage and external signage solutions in a simple, cost effective and environmentally considered manner."

Ben Robinson
Design and Innovation Team
Programmed
The use of separate panels means damaged panels or new copy requirements can be changed easily.
S2 EXTERNAL EDUCATION
The eCore signage system is a custom school sign and will accomplish all that a school facility would expect it to. However, the flexibility and cost-efficiency of eCORE's modular system brings much greater benefits to schools over the long term.
The eCORE signage system is more cost-effective to maintain and change. For custom-made educational signage, if a sign is vandalized (always a material possibility in schools) then the entire sign will have to be replaced. But the convenience of eCORE's modular educational signage systems means only a single panel may need to be replaced. The modular system also allows for important information to be placed out of reach of vandals, while anti-graffiti coatings and high quality paint can help reduce permanent damage to the sign.
The versatility of the eCORE system provides for the design of a variety of external custom school signs that integrate with existing building structures and the physical environment. From double sided monoliths to under awning and suspended sign applications, or wall-mounted signs, the modular system can be configured in multiple display formats, customised to your particular preference.
The modular educational signage system also integrates convenience and creativity within the fabric of the school's brand. Panels can be combined or separated for customized offering unique to the school, or rearranged in different orientations in a periodic process of renewal, generating consistent interest in your brand. The frame can also be highlighted in the school's brand colour, maintaining continuity throughout any changes. The resulting design aesthetic is only limited by your imagination.
Pylon school entrance signs, when done well, can be extremely effective at furthering brand recognition with the school's surrounding community.
LED school signs have the added benefit of communicating important information to parents and members of the public in real time, whether regarding upcoming exams and locations, school announcements, or warning the public about capital works on your property.
LED school signs, properly designed by signage experts, will enhance branding and further the school's reputation without compromising aesthetic design principles, or being too "busy" to communicate anything succinctly. LED school signs can also provide tasteful night-time brand presentation, keeping your brand in the public eye even after hours.
Custom school signs can even be placed in locations other than the school entrance, where they will draw attention. For example, school property that backs onto a major road or highway presents a perfect opportunity to install educational signage where it can be noticed by thousands of motorists on a daily basis, furthering community awareness of your school and improving its reputation.
Many schools grapple with restricted budgets, particularly when it comes to capital works and maintenance. Unfortunately, inferior materials can be often be used in educational signage in an effort to keep costs down. This is counter-productive, as cheaper materials are more likely to require replacement or deteriorate in a shorter period of time. A shabby, deteriorating school entrance sign is less than desirable, it causes immense damage to the school's brand and is no way to communicate your school's qualities to students, parents and the community.
eCORE Signage Systems only use high-quality, appropriate materials when designing and constructing custom school signs. Premium materials help maintain a high level of appearance, which directly impacts on your brands perceived image and quality, while its' modular, standardized design helps to decrease overall installation, maintenance and replacement costs.
The eCORE Signage System is for school signage.
Educational Signage Examples